Bachelor in Architecture
Make meaningful environments
The Bachelor in Architecture
Is for individuals who are…
able to see possibilities where others don't. You understand that there are many ways to approach and interpret the spaces and structures around you, and are passionate about bringing your ideas to life.
Looking for…
a unique program that provides you with the best technical, digital and traditional tools, creative environment, and entrepreneurial skills you need to be an outstanding architect.
To become...
the head of your own firm
a sustainability expert
an urban design specialist
part of a major architecture or engineering studio
This bachelor degree is aimed at those who are passionate about architecture and aspire to make innovative and meaningful environments. The program surpasses the boundaries of conventional architecture degrees by combining design, management, and entrepreneurship. Together, these elements provide you with the knowledge and skills you need to build a unique profile capable of driving innovative projects and successful teams. Based on IE School of Architecture and Design's international recognition, this bachelor degree has an exclusive internship program that will allow you to gain real world experience in some of the most prestigious studios worldwide.
PROGRAM
Undergraduate Degrees
LOCATION
If you choose to study the Bachelor in Architecture, then you will study the five years in Segovia.
LIVE YOUR PASSION
Why study the Bachelor in Architecture at IE University
ACCESS A COMPREHENSIVE PROGRAM

This degree provides a unique combination of solid architec-ture foundations with design, innovation and management to prepare well-rounded pro-fessionals capable to adapt and bring solutions to present and future challenges.

BE PART OF A HIGHLY CREATIVE ENVIRONMENT

Students are immersed in a vibrant studio atmosphere where they can develop their creativity in a dynamic working and learning environment. Thanks to the time spent in the Design Studio, you will have the chance to really interact and learn from your peers and professors.

BENEFIT FROM AN INTERNATIONAL OUTLOOK

The Bachelor in Architecture is among the most international in the world, with a learning environment and program content that gives you an international outlook and global vision. You will study in a truly diverse community and will able to take advantage of study abroad and international internship opportunities.

BECOME AN ENTREPRENEUR

IE is recognized in Europe and worldwide for its entrepreneur-ial spirit and its expertise in business education. This spirit is about being proactive and proposing disruptive solutions and it can be applied not only in your own studio, but in established companies and corporations as well.

BACKED BY IE SCHOOL OF ARCHITECTURE AND DESIGN

IE School of Architecture and Design places emphasis on design, innovation and entrepreneurial spirit. Archi-tecture students will be part of a community of students and professionals encouraged to take a creative approach to architecture and design, think critically when confronted with a challenge and not be afraid to think outside of the traditional boundaries.

CONNECT A DIVERSE AND ACCESIBLE FACULTY

Our diverse faculty is comprised of both excellent academics and experienced professionals with international experience and close ties to the professional world. What is more, our profes-sors are completely accessible to students, which means that you will have daily interaction with them, obtain regular feedback, and receive the support needed to accomplish your goals.

TURN YOUR IDEAS INTO REALITY

We will inspire you to be entrepreneurial in any field or discipline, providing an environment where you can be open to new ways of thinking, release your creativity, and venture into the unexplored.

PERSONALIZE YOUR PATH TO SUCCESS

Our innovative degree programs are recognized by the most prestigious associations in their respective fields, and integrate a broad range of teaching approaches and options that will allow you to shape your own education according to your professional aspirations.

EXPERIENCE A PRACTICAL LEARNING METHODOLOGY

We combine theory with practice from the moment you start your studies. You will take what you learn in class and apply it to real-life cases and when managing your own projects. Each year students can choose a range of internship options, working on campus, in Spain and around the globe, and acquire an impressive set of skills and professional experiences that make them highly sought after when they graduate.

BUILD YOUR WAY TO THE FUTURE

We help graduates launch their careers across industries and around the globe. Employers of leading companies worldwide consider IE University among the top universities where they want to recruit from. What's more, you will belong to a com-munity of more than 45,000 IE alumni worldwide, make friends for life, and enjoy an active alum-ni network that you can always depend upon throughout your professional journey.
In Process: students exhibition
This exhibition reveals the work of IE School of Architecture & Design undergrad students and the processes behind them.

These projects are made with a variety of materials (concrete, wood, metal, plaster, cardboard), and a variety of styles (from houses to abstract art) which are our student's experimentations throughout their study years. It is also important to mention the process they took to get there: the way they thought to solve a specific problem and how they came up with a physical solution.
IE University takes an applied and studentcentered approach to education where each individual's uniqueness is identified and students are given the chance to build their own path. You can personalize your program by adding to the core degree an area of concentration, complimentary courses, seminars, internships and IE Labs, the sum of which is a well-balanced degree program.
PERSONALIZED SUPPORT
Students receive academic guidance from tutors and advisors who provide direction and help them to integrate the different elements of their degree in order to build a personalized academic program that matches their professional aspirations.
Relating classroom learning with a real world work environment is one of the goals of the internship program. Students have a chance to interact and learn from top professionals in the field during second semester in years 2, 3 and 4. Destinations throughout the world include not only design firms, but also magazines, museums and NGOs.
Read more
FINAL DEGREE PROJECT
The Final Degree Project is a major part of the fourth year's curriculum. Students choose their topic with faculty and are guided by their advisor, drawing upon the knowledge the student has gained from specific academic areas and internships or IE Labs projects which the student carried out during their degree program.
The IE Start-Up Lab is an incubator where students can develop their business plans and make them investment ready, with the guidance of professors and entrepreneurs. Students are given further resources with the support of IE Business School's Venture Lab, where they can pitch their idea to potential investors at IE Venture Days and turn their ideas into reality.
IE START-UP LAB
IE Labs are IE University's alternative to traditional internships. Aimed specifically for first and second year students seeking high level internship placements, the
IE Labs provide hands-on, internshiplike experience on campus, working on projects for leading companies and institutions in a variety of sectors. Additionally, students can also carry out internships, working in different sectors and gaining professional skills and an international profile that are highly valued by employers.
IEU LABS
ADVANCED SEMINARS
Advanced Seminars complement the core degree by giving students deeper knowledge of subjects in their major area of study, and enable students to integrate other fields of study into their program.
THE FAB LAB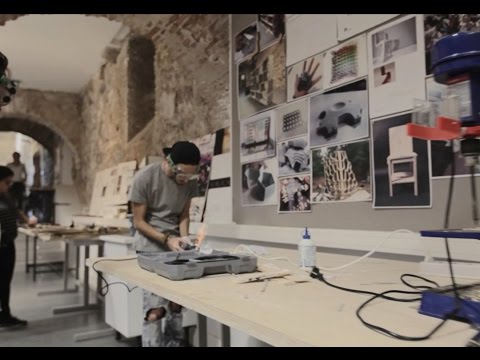 The Fabrication Laboratory or "Fab Lab" is a fundamental part of what we call the culture of making. It is a space where students experiment with digital and traditional woodworking tools to really understand how things go together.
There are two parts to the Fab Lab, one which uses digital tools (CNC router, laser cutters, 3D printers) and the other which uses more traditional carpentry and shop tools, allowing students to "think with their hands".
This gives you the chance to put your work together in a computerized format, giving you the opportunity to make any necessary alterations to your design while also providing you with a platform to incorporate this function into other creations.
IE SCHOOL OF ARCHITECTURE & DESIGN
IE School of Architecture & Design places emphasis on excellence in design, innovation, and entrepreneurship. Our students are encouraged to take a creative approach to architecture, learn the latest digital skills in a contemporary context, and develop talents to become leaders in a changing field. IE School of Architecture & Design is part of a broader university, which supports learning across disciplines, especially the humanities and business.
We offer a series of programs. The five-year Bachelor in Architecture degree means that upon completion our students have completed all the requirements to be fully recognized architects. The various masters and special programs allow our students to acquire the skills needed in the world of architecture in order to develop successful careers. Moreover, all this is combined with direct and continuous contact with leading international professionals in architecture and design that confer to each of our programs the added value of learning from the experience of leaders in their fields.
Learn more
IE School of Architecture and Design understands that collaboration, especially on an international level, contributes to our community. Recognizing and appreciating diverse outlooks by studying and working with others in different places and in different settings enhances the overall academic experience.
Learn more
PROGRAM RECOGNITION
The Bachelor in Architecture leads the "Hidden Gems in Global Architecture Education" category in the ranking from Design Intelligence magazine 2010. This USA ranking is the most prestigious regarding architecture and design schools. Design Intelligence decided for the first time to consider foreign schools and to reward the ones that are pushing the boundaries of innovation, creativity and global commitment.